Featured Artist Interview: Gavin Rutherford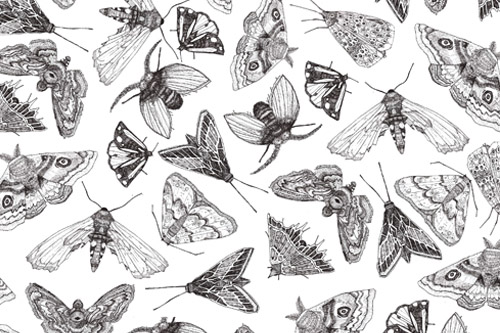 Gavin Rutherford is an illustrator and surface designer from Scotland. His work is an intricate blend of soft subjects and delicate line work with jarring shapes. Gavin is a Honors Degree graduate from Duncan of Jordanstone, College of Art & Design and as received awards and recognitions such as the D&AD 'In Book' Award, PSFK Design creative of the week and the Print and Pattern Scholarship.
PB: What is your medium? What are the materials you work with?
GR: For me, it's really all about pens and pencils. Coming from an illustration background, these have always been my tools of the trade. I'm a bit of a perfectionist when it comes to my work and I love the level of control and precision you get when drawing this way. They also allow me to work on intricate details and try out different mark-making techniques. That's not to say I don't experiment with other materials, but more often than not, I find myself reaching back into the pencil case at the end of the working day. In terms of editing and manipulating my work, I can usually be found huddled over a computer screen with a cup of coffee, repeating my original illustrations, twisting and tweaking my designs to create a finished piece.
PB: What is your background and training? What about outside of school?
GR: After a childhood of doodling, painting and crafting, I eventually found myself at University, studying for an honours degree in Illustration. It was during this time that I really found my own style and a love for pattern and print. I spent a lot of time working away in the screen printing studios, experimenting with new techniques and filling my sketchbooks with as many ideas as I could. Outside of school, you would rarely catch me without my trusty sketchbook and pens in hand.
PB: Talk about your studio space, what is your process?
GR: I'm lucky enough to live in quite a big building, which provides me with plenty of space to work from. I spend most of my time sitting at my desk, surrounded by books, papers, pens and inks. I usually work in my sketchbook, doodling away and documenting any patterns, shapes or textures I come across during my daily life. From these initial drawing I develop the ones I find the most interesting, combining ideas and merging images to create  new designs.
PB: What is your work heavily inspired by?
GR: I try to find inspiration wherever I can really. I usually seek out patterns wherever I go, whether it be a trip to the museum, the park across the street or a quick jaunt to the shops. I'm typically drawn towards shapes I find in nature so I tend to focus on floral and geological formations, which provides me with no end of visual inspiration. There's so many shapes and texture out there that I discover new patterns everyday. Cracks in the pavement, Ice hanging from trees, the flowers I pass on the walk to work, they all inform my designs to some extent.
PB: How do you support yourself financially?
GR: Right now I divide my time between working in my studio and part-time in a nearby shop. I actually appreciate my day job as working freelance can get quite lonely and intense at times, especially during the winter months. I think it's important to to maintain a lot of social interaction outside of your work and get away from the desk every now and then, so for me, having something outside of pattern design actually provides me with even more inspiration.
PB: Your details are beautiful. Why such a focus on intricacies?
GR: I've always enjoyed looking at the details within details, the patterns in the bark of a tree, the tiny shapes and textures of ice formations or the abstract lines found in flowers and petals. If you look at the world of the very small, you can often find patterns that are hidden in plain sight, so by reproducing such intricate details I have the opportunity to introduce these patterns to the world of the very big and do something fun with them. In a way, I also find the process of working like this very therapeutic. It's oddly relaxing for me to lose myself in concentrating on working on these tiny details and obsessing over the smallest lines.
PB: How does illustration and pattern design coincide for you?
GR: For me, the transition from illustration work to pattern design came very naturally and seemed like the next logical step. I think the way I draw lends itself well to surface decorations as I find myself preoccupied by repetition and textures in the work I produce. When I draw an object, I mentally break it down into the patterns I can see in its form so I tend to produce work that combines elements of both illustration and pattern design regardless of what I'm actually working on.
PB: Any colors textures or patterns that you're fixated on?
GR: In terms of color, my work tends towards black and white motifs. I try to place emphasis on shapes, lines and delicate patterns in my designs and by using such a bold color scheme, it helps draw more attention to these areas. I also like the timeless feel of black and white designs as it's a classical look that never seems to stray out of fashion. In terms of patterns, I've been slightly obsessed over cracked, fragmented and shattered objects recently and the abstract shapes these can produce.
PB: Who are your favorite artists, designers, and illustrators?
GR: A lot of my favorite artists are the people I actually graduated with or who I met during my time at art school. When you spend so much time working away in a studio space with the same people everyday, it's hard not to love the work that they do and let it affect your own designs. You see all of the sketching, research and development that goes into their designs so you develop a deeper appreciation  of it. I suppose you have a more personal attachment to what they do. Aside from this, I've always loved the work of David Galletly. His work combines fantastic character designs and linear patterns, with an element of Scottish humor. 
PB: I love how your work bridges delicate themes like insects and florals, and bridges them with a more brash, geometric aesthetic, and illustrated with jagged edges and corners. Is there a particular reason for this?
GR: I've always loved floral designs and wildlife drawings, but found it difficult to stamp these images with my own unique style as these visual cues are so prolific within the art world. The idea to actually combine softer, more organic shapes with sharp, angular illustrations really came about through experimenting with some of my older designs. I found that by merging these two aesthetics, I could create something new and interesting. Something that was more recognizable and unique to my own style. It also allowed me to bring an element of masculinity into my work.
PB: What have you done pattern design for?
GR: My designs don't typically have a certain object in mind so I'm actually able to apply them to a variety of items depending on peoples requests, from cushions and phone covers, to tote bags and t-shirts. Right now I'm working on wedding invitations and one-off screen prints, but it's changing all of the time!
PB: What do you see your work on in the future? How would you like your aesthetic to develop over time?
GR: I'm really hoping to set-up my own label once I become more established and start manufacturing anything from bed-linens, cushion covers, lamp shades, to dresses and wallpapers. I think the beauty of pattern design is there's a potentially infinite amount of applications for your work!
Gavin was awarded a scholarship for Rachael Taylors 'The Art and Business of Surface Pattern Design'. It's an e-course designed by Rachael. He will work through a variety of online classes and workshops. You can also get more info about Gavin on his Facebook.